What is the FICC Markets Standards Board?
FMSB ambitions
The FICC Markets Standards Board ("FMSB") was established in 2015 as a private sector response to the Conduct problems revealed in global wholesale Fixed Income Currencies and Commodities ("FICC") markets after the financial crisis.
FMSB has only one ambition: to help raise standards of conduct in global wholesale markets and thereby make those markets more transparent, fair and effective.
Our membership is designed to be representative of the entire wholesale FICC market. Our outputs are voluntary Standards and other guidance, developed by our membership and designed to illustrate best practice to all market participants, in areas of uncertainty.
These Standards are intended to reduce the continuing uncertainty about acceptable practice in opaque and unregulated areas, which is a hazard for FMSB Members (and other market participants). We believe that Standards can be developed quickly and pre-emptively, adopted rapidly and align naturally with the new regulatory approach to behaviour, conduct, compliance, culture and governance.
We are open and consultative: we work with any national and international body interested in our work, we avoid any duplication and overlap and share our thinking and output with any other organisation worldwide wishing to use, adopt or copy our materials.
… and some things we are not doing
FMSB is is not a Regulator, an SRO, a Trade Association, a Lobby Group, a Consultant or Legal Advisor; nor are we competing with any of these organisations. FMSB does not produce rules, laws or codes and we have no statutory or regulatory authority.
Regulators comment on draft Standards but do not approve them: approval is given by the FMSB Board.
Organisational Structure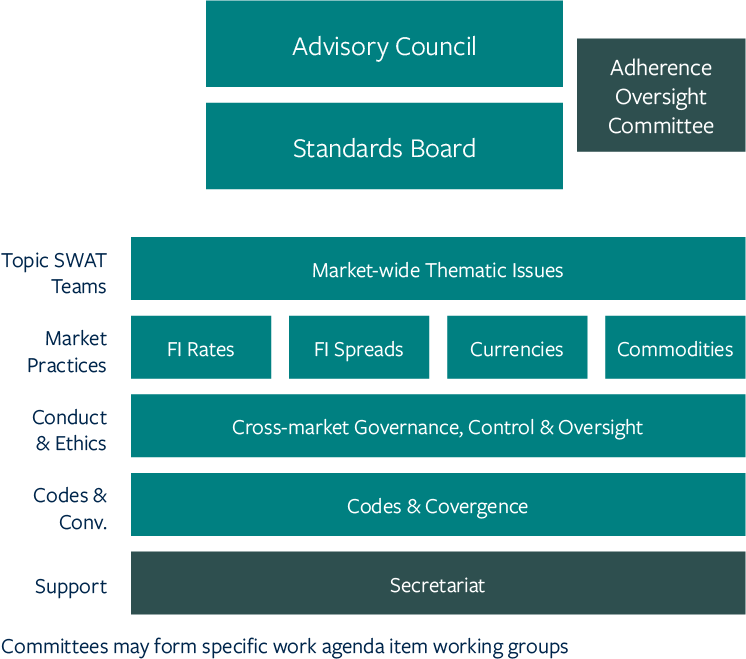 Advisory Council comprises representatives from and commits all member firms. Reviews and approves FMSB strategy and performance. Approves financial plans. Commits member firms to standards adoption and adherence.
Adherence Oversight Committee oversees adherence process

 

– note: proposed, currently in discussion
Standards Board. Rotating membership of senior market practitioners in a personal capacity. Develops and executes FMSB strategy. Reviews and approves outputs.
Topic SWAT teams. Formed to address specific market-wide and thematic conduct issues. Formation initiated by the Chair and CEO.
Market Practices Committees. Four Committees: FI Rates, FI Spread Products, Currencies and Commodities.
Conduct and Ethics Committee. Cross-market, considers matters relating to governance, controls, oversight functions and methodologies.
Working Groups. Technical experts producing FMSB Standards and outputs, formed at the request of the Committees.
Codes and Convergence. Reviews required activities and supports centralised international outreach driven by Chair & CEO in the 1st phase.
Secretariat. Supports the FMSB organisational structure and production of outputs, ensuring standardised production. Assists with Horizon Scanning and engages in central international outreach.
Our Strategy
Our mission is to enhance standards of behaviour in FICC markets by developing clear Standards and Guidelines on conduct which fill the gap between high-level principles and detailed regulation.